Ashley Maguire
General Manager
ashley@planeinsurance.com
Ashley Maguire is in charge of day-to-day operations of Schrager Hampson Aviation Insurance Agency. She graduated from Husson University in Bangor, ME and began her insurance career with a large regional insurer and has been specializing exclusively in aviation insurance since 2016. Ashley has been instrumental in helping grow our book of business while maintaining the highest standards of personalized and responsive customer service. In addition to overseeing daily operations, Ashley also trains new staff that join our firm.
Ashley has resided in Maine most of her life, but relocated to New Hampshire at the end of 2022 with her husband and son in order to accept her new management role based out of Schrager Hampson Group's corporate headquarters in North Hampton, NH. An avid aviation enthusiast and student pilot, Ashley aims to obtain her private pilot certificate in the near future.
---
David B. Hampson, CPCU, ARM, CAIP
President
David. B. Hampson holds the insurance designations of Chartered Property Casualty Underwriter (CPCU), Associate in Risk Management (ARM), and Certified Aviation Insurance Professional (CAIP). He is a graduate of Phillips Exeter Academy with degrees from both Wake Forest University and the University of Cape Town, South Africa.
David has extensive insurance industry experience, and previously managed a branch office for a large regional insurance broker. David's passion for aviation began when he was less than 10 years old and as an instrument rated commercial pilot, he can regularly be found traveling in our agency's Cirrus SR22 to visit clients, attend conferences and commute between our offices.
David lives in Greenland, NH with his wife and two sons. He is an FAA Safety Representative with the Boston FSDO and a volunteer pilot and Board Member for Above the Clouds non-profit organization. He also serves on the board of the Maine Aviation Business Association and is President of the Aero Club of New England.
---
Tammy Kissinger
Chief Financial Officer
Tammy Kissinger oversees all financial matters for Schrager Hampson Aviation Insurance Group and joined us with 37 years of bookkeeping and finance experience for profit and non-profit corporations, with a concentration in financial management, account analysis and reconciliation of accounts.
While working full-time, Tammy attended college at night and earned an Associates of Art degree from San Diego Mesa College. She started her career off as an Office Manager in a corporate accounting firm, assisting with tax preparation and performing bookkeeping services for various clients. After a few years of working in the corporate world, she followed her passion to be an entrepreneur and started her own bookkeeping business.
She has worked for diverse industries over the years, which has given her the intuitive understanding of accounting. Her expertise is the organization and implementation of accounting policies and procedures, computerized accounting systems, reconciliation of accounts, financial planning, and management of small to medium businesses.
Tammy also served on the Board of Directors for a not-for-profit company in Connecticut for eight years as the Assistant Treasurer and in that role assisted with the allocation and reconciliation of restricted and non-restricted funds.
---
David G. Hampson, CPCU, MBA
Chairman
David G. Hampson is Chairman in charge of strategic direction for Schrager Hampson Aviation Insurance Agency. He previously served as President & CEO of Willis Programs, and in that role was responsible for providing strategic direction, profit center productivity, development of best practices for continuous improvement in sales, marketing, customer services, and relationship building with insurance company management. During his tenure David grew specialty insurance programs from $17 million in premiums in 1995 to $400 million in premiums in 2015.
David received his M.B.A. with a concentration in Risk Management and Insurance from the University of Georgia. He received his B.S. in Business with a major in risk and insurance from Florida State University.
David has been active in professional organizations dedicated to the risk management and insurance profession and has lectured and published articles on various aspects of risk management, insurance, insurance program development and what it takes to achieve success. He has developed proprietary models for predicting the success of new insurance programs and analyzing the health of existing insurance programs.
David lives in Portsmouth, New Hampshire with his wife Jo Ann. David and Jo Ann have four children, David, Jolene, Emily and Wesley and two grandchildren, DJ and Samantha. David is an avid sports fan and enjoys art, skiing, running, traveling and spending time with family.
---
Daniel Schrager
Dan Schrager began his career in aviation insurance as an underwriter for USAIG. He subsequently managed a large regional aviation insurance brokerage until 1989 at which point with a handful of customers, he founded the Aviation Insurance Agency.
Having worked in the larger corporate insurance marketplace, Dan placed a premium on the dedicated specialized service he could provide within the structure of a smaller boutique agency.
The opportunity to combine his love of flying with his enjoyment of the flying community, Dan built the agency frequently flying to clients in the agency's Skyhawk.
Dan lives in Concord, MA with his wife Ellen and dog Callie within walking distance of Hanscom Field. He is former president, treasurer and currently director of the Aero Club of New England. He's also a board member of Above the Clouds, a non-profit utilizing small aircraft to help sick and disadvantaged youth. He's a long time subscriber of the Boston Symphony Orchestra and serves as an overseer to the board. Dan is a graduate of Harvard College.
---
Karen Lewis
Karen Lewis has been working as an office manager at Schrager Hampson Insurance Agency since 1996, after graduating with a Bachelor of Science degree from Bridgewater State College. In 1997, she obtained her Broker's License which has allowed her to work directly with customers to find the best options for their insurance needs. During this time, her love of aviation has grown. Married to a corporate pilot for 18 years, she has had the privilege to fly with him to many exciting places and had the opportunity to meet some interesting people. Her many hobbies include gardening, boating, ping pong, hiking, collecting Italian nickels and kite flying.
---
Buddy Hampson
Buddy Hampson is an account manager and accounting administrator based in our North Hampton, NH office. Buddy has been a licensed insurance producer for over 10 years and has previously worked in both financial services and banking, starting as a teller in 2007 and working her way up to several management positions before leaving banking in January 2019 to join the family business. Budd is originally from Cape Town, South Africa but has been living in the United States since December 2006. Although bilingual in English and Afrikaans, she now seldom gets to practice the latter! Buddy lives in Greenland, NH with her husband, David B., and two sons, David J. and William.
---
Jonathan Meister
Jonathan joined the insurance industry right after graduating with a Bachelor's of Economics from The University of Massachusetts Lowell. He was inspired to start his insurance career by his father who works for the carrier FM Global. Jonathan started as a commercial lines assistant at a general insurance agency, gained his producers license and soon was promoted to a full Client Manager.
After working in general insurance Jonathan's love for aviation made him seek out opportunities in the field of aviation. He says Schrager Hampson Aviation Insurance was a clear choice for him to be able to combine his love of aviation with his insurance career. He is currently an Account Manager and enjoys talking with the student pilots and light aircraft owners.
Jonathan lives in Milford NH with his wife Amanda who is a chemist. He has two dogs Winnie (the Pooh) and Smokey (the Bear) and enjoys his many hobbies including being an Assistant Scoutmaster at his local Boy Scout troop. He is currently attending flight school and never plans to stop learning about the wonderful world of aviation.
---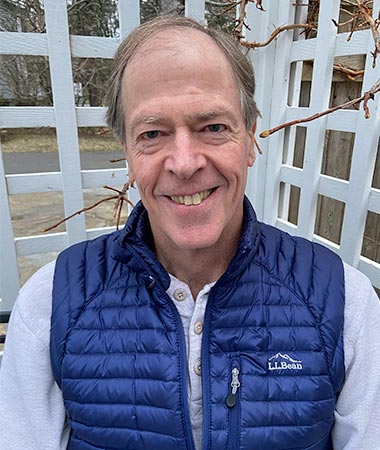 Roger Butler
Roger began his insurance career in 1978 working for Kemper Insurance before joining his family's insurance agency in 1980. After his father's retirement, Roger and his sister became the 4th generation to own and operate the business. The agency was sold in 2020 and Roger entered semi-retirement in 2022. He is thrilled to join the Schrager Hampson family to focus on aviation related insurance which has been a passion since the mid-1980's.
Roger is a graduate of Dartmouth College and remains very active skiing, playing hockey, biking and sailing. He also enjoys cooking, reading and following Boston sports.
Roger is a life-long resident of Westfield, MA but will soon be moving to Plymouth, MA with his wife, Deborah, to be closer to their daughter, son-in-law and grandchildren.
---
Rachel Lewis
Rachel Lewis is executive assistant to David B. Hampson, based out of our North Hampton, NH office. She is a graduate of The University of Central Florida with a BS in Anthropology. Prior to joining the Schrager Hampson team, she worked in the restaurant and staffing industries in management roles with a specialty in implementing new technologies and procedures. Rachel moved to the Portsmouth, NH area from Orlando, Florida with her husband, dog, and three cats. She enjoys traveling, live music and comedy, and movie marathons at home with her husband and pets.
---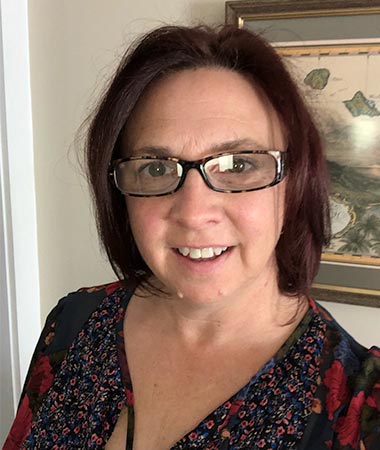 Jean Sullivan
Jean Sullivan began her time as a brokers' assistant for Schrager Hampson Aviation Insurance Agency in the spring of 2017. She focuses on implementing the renewal process for existing accounts, assisting with correspondence, and managing policy documentation for the brokers. She is a graduate of Lehigh University with a BS in Industrial Engineering, and Chapman University with an MA in Organizational Leadership. Prior to joining the Schrager Hampson Team, Jean spent 8 years on active duty with the USAF as a Management Engineering officer. She moved on from her military experience into the corporate world in the health insurance market, developing web-based services as a project manager for Blue Cross of Northeastern PA and Tufts Health Plan. Originally from Reading, Pennsylvania, Jean lives in Woburn, Massachusetts with her husband, Mike, and their teenagers, Sean, Justin and Kate. In a quiet moment, she finds there is nothing better than a good book, time with family and the beach.
---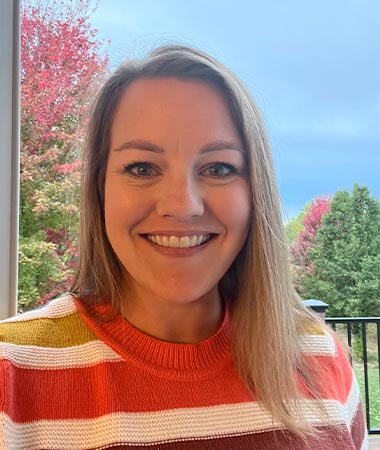 Christine Smith
Christine Smith is an assistant account manager based in in Kansas City, MO. She is a graduate of Missouri State University. Her insurance career began at Shelter Insurance as an intern during summer and winter breaks in college. She later worked full-time in the Customer Service Department and the Claims Department as a casualty adjuster. The last six years she and her family have lived in Guam and Germany for her husband's military career. He recently retired and they are ready to enjoy civilian life. She lives in Missouri with her husband Antone and three children, Emorie, Ryker and Caiden. Christine enjoys traveling, reading, watching football and most of all, chasing her little ones around.
---
Brittani Dwyer
Brittani is an Assistant Account Manager in our North Hampton, New Hampshire office. Before working at Schrager Hampson, she worked in New Jersey fulfilling home health services at a senior living community. Brittani moved to Barrington NH where she now lives with her boyfriend and two cats. She enjoys riding her bike and going to the beach in the summer, and snowmobiling in the winter! Brittani is excited to learn about the aviation industry and explore more of New Hampshire.